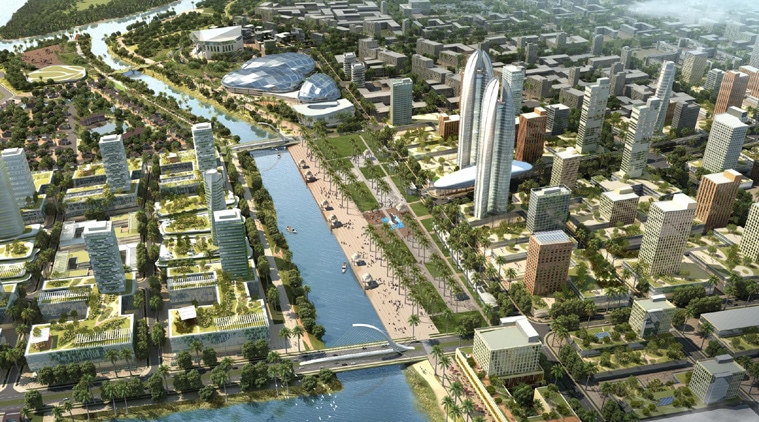 Finally the day has come for ChandraBabu Naidu's master plan collaborating with the Singapore's prominent agencies Surbana International Consultants and Jurong Consultants to build the newly chosen AP Capital: Amaravathi-the City of Gods as the best city of 21st century, as he said in a recent press meet.
Interesting reason why it was chosen the new Capital of AP state. Amaravathi has a historic significance in that the Satavahanas chose the terrain around Amaravathi to build their capital at Dharanikota. Amaravathi also lies 2 kilometres away from Guntur and 39 kilometres away from Vijayawada, rising on the southern banks of Krishna River.
A host of distinguished men are reportedly invited to this inauguration of AP Capital Amaravthi on 22nd October marking the auspicious occasion of Amaravathi. Several cabinet colleagues, chief ministers, and governors are making their to the city of gods Amaravathi to grace the inauguration event.
KCR to attend the Amaravathi Inauguration: K Chandrasekhar Rao left for suryapet last night where he is reported to stay in the abode of Energy minister G Jagadish Reddy . He will then be choppered to Vijaywada in a helicopter at 10.15 a.m
Various Telangana officials namely Reoori Prakaash Reddy , Yarraballi Dayakara Rao, L. Ramana, Revanth Reddy, Vem Narendra Reddy, Raula Chandra Shekarr Reddy , Maganti Gopinad, Kotha Kota Dayakara Reddy are exhibiting fraternity to their Andhra comrades by attending the event today.
Congress president Sonia Gandhi and YS Jaganmohan Reddy were also extended invitations to the Inauguration ceremony of Amaravathi. It remains to be seen if they will actually turn up for the event.
Puja and Ceremony timings: The official conventional Inauguration Puja is scheduled to take place at 12:45 PM on Vijyadasami and all of the other ceremony formalities are to follow the Puja event.
Here are a few fun facts that you ought to know:
Books of history point toward the narrative that eminent like Buddha, Hsuan Tsang and King Ashoka walked the surface of Amaravathi back in the day. It goes to show the rich heritage and significance of Amaravathi.
Over 33,000 acres of land was procured to build this city touted to be the best creation of 21st century.
Amaravathi will also be receiving intellectual help from the Japanese Think tank.
Amaravathi will be laid with a regional expressway, and a 220-km long outer regional expressway, which will also include a Vijayawada bypass and a capital city bypass.
Vijayayawada's Gannavaram airport will be developed into an international airport.
Mangalagiri,a city 20 kms away from Gannavaram will also be set up with a new airport.
An Inland-Waterways is scheduled to be set up in Kakinada-Pondichery canal, Machilipatnam-capital canal, Rajahmundry to Badrachalam canal. It sounds promising to attract tourists from all over the world and will firmly set it's name as a popular tourist destination in years to come.